Minuteman/Brain Corp Partnership Combines Artificial Intelligence with Cleaning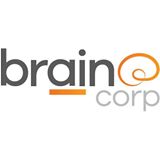 We are proud to announce a new partnership with Brain Corp, a software technology company known of its autonomous artificial intelligence systems. This partnership enables us to introduce Brain Corp's AI technology, known as EMMA, through our commercial-grade equipment to the manufacturing, government, retail, aviation, healthcare and hospitality industries.
The vision-based AI technology automates industrial floor care machines and is based on Brain Corp's proprietary operating system for robotic development. This advance helps us achieve our mission of providing the most innovative solutions to our customers. Jack Hill, our esteemed vice president, says "The market has been demanding robotic floor care for some time, and we are thrilled to be launching an advanced autonomous solution that will deliver floor care quality customers trust."
This partnership offers a sustainable, smart and safe cleaning solution that empowers operators of Minuteman floor cleaning equipment while allowing them to focus more time and energy on higher-value tasks. The technology will significantly increase efficiency while improving consistency and resulting in a more scalable environment.
We look forward to introducing you to EMMA and the ways the technology will revolutionize your cleaning program.