A Safe and Clean Workplace Begins with a Quality Floor Scrubber Unit
In any industry, maintaining a safe workplace is essential to business success, not to mention a crucial factor that, if neglected, could serve to shut down operations altogether. Proper cleaning and maintenance of flooring areas in any establishment is an essential measure that companies need to undertake to make their workplaces safer and cleaner for smooth operations.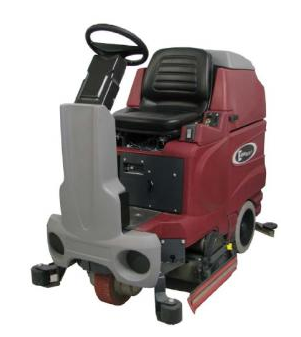 No matter what size the facility, and what materials may soil the flooring area, there is a floor scrubber available in the market that will extricate debris from the floor surface. Larger floor scrubbers can even suck up the dirt altogether, thereby bringing the floor to its maximum cleanliness.
Maximum Effectiveness
Depending on the floor, dirt and other debris have a nasty way of lodging into porous nooks and crannies in the surface, making effective cleaning especially difficult. Concrete is one surface where this problem is most prevalent. Simply sweeping and mopping the surface will not get the target area sufficiently clean, as that residue will still be there just below the surface.
For smaller jobs, and for jobs with tighter spaces, a burnisher may be a good scrubber option. These hand-held, walk-behind units are powered by battery, electric cord, or propane, whichever is most suitable for the area. Pad diameters range from 17″ – 28″, with some models available with dust control systems.
Unmatched Utility and Versatility
Walk-behind floor scrubbers are available in micro, small, mid-size, and large models. The micro-sized model is great for a wide variety of surfaces, and is ideal for congested areas. Larger models come in a variety of cleaning path widths, drive systems, and recovery tank sizes, among other options.
For really large areas, there is a wide variety of riding floor scrubbers for sale on the market. Riding floor scrubbers come in a variety of sizes, so consumers can evaluate the scrubber's size to determine what model is most suitable for their operation. Likewise, the available options are numerous, based on the model. These considerations include cleaning path, recovery and solution tanks, solution flow rate, squeegee vacuums, control panels, front wheel drive, and more.
Get in touch today with leading suppliers such as Minuteman International to enjoy the benefits of these indispensable tools.

Source:
What is a Floor Scrubber?, wiseGEEK