How to Properly Use a Floor Scrubber to Maximize its Cleaning Power
Manually cleaning the flooring of your business property hazards inefficiency in time, labor and even in effectiveness when it comes to the actual cleaning. If your property is large and several people are required to clean its floors, then it's time to invest in commercial cleaning equipment and put your staff to work on more strategic business matters, such as production and revenues.
An automatic floor scrubber can help in many ways. First, it provides an easy, swift way to clean a hard floor surface. There is no need for a mop, a bucket, or even a strong back anymore. Furthermore, the size of the space doesn't matter as much as if it were cleaned manually. In fact, a floor scrubber can cover up to 23,000 square feet per hour.
While this machine is convenient, you should know how to use it properly to ensure efficient operation.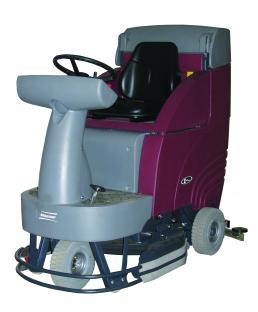 Preparation
You need to prepare your equipment and the area to be cleaned. First, fully charge the machine so that in can run nonstop for 2 to 4 hours. You may worry that it's not enough time to cover the area, but if you prepare the floor, you will be able to clean about 50,000 to 70,000 square feet on full charge.
When preparing the work area, remove any furniture or other obstructions that can get in the way. Don't forget to post warning signs to make sure that employees and customers are aware of the maintenance work going on. Dusting the area can help as well. This will remove anything that may damage your machine, such as trash collecting beneath the squeegee.
Before using the machine, you should also connect all the hoses and make sure that there are no leaks or damages. Using a faulty scrubber can ruin the flooring. The pad or brush you use should also match the type of flooring to avoid any damage or grout lines.
Cleaning
Once you begin looking at floor scrubbers for sale, buy the one that is best suited for the surface volume of your floors. When starting the actual task of cleaning your floors, start close to the wall and make a sweeping turn with every pass to pull up all of the solution deposit. You may also want to divide the room in half to save time. For inaccessible spots, use a mop and a bucket, since the machine may not be able to clean those areas.
Even if you find the best floor scrubber, it will still not do the job if you don't know how to use it right. So, make sure that your staff are taught all the preparation and cleaning techniques.
Sources:
What is a Floor Scrubber?, Wisegeek.com
How to Use a Floor Scrub, ehow.com