Spotlight on Minuteman Rider Floor Scrubbers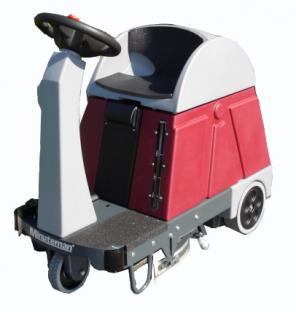 We provide automatic floor scrubbers for every facility's budget and needs. These machines enable you to clean large spaces faster and easier than ever before, and they include features that increase operator comfort, boost efficiency and enhance the productivity of your cleaning program.
The E Ride 21
With a 21-inch cleaning path and compact design, this riding automatic floor scrubber is one of the most cost-effective solutions on the market today. Features include one-touch brush and vacuum starting, ergonomically-designed steering wheel, integrated dashboard and controls and a TURBO button that sends a blast of chemical solution just when you need it. Known for its reliability and durably, the E Ride 21 also utilizes Minuteman's Injection Technology for the perfect distribution of solution every time.
E Ride 28
This versatile machine is ideal for any industry thanks to its interchangeable scrub decks. Features include heavy-duty steel construction, a see-through solution tank lid, dual side entry, fully variable solution flow rate, tilt steering, see-through vacuum motor cap and removable debris box.
E Ride 32
Featuring single front wheel drive for increased traction, this automatic rider scrubber also boasts a cushioned safety seat, easy-to-read controls, a self-tracking squeegee and a polyethylene battery tray that prevents acid spills while protecting the machine.
To learn more about these and other Minuteman automatic ride-on floor scrubbers, contact us today!